In its latest industry report, market analyst Fitch Solutions says it expects global commodity prices to ease in 2022 from current levels and forecasts most commodity prices to average lower on a y-o-y basis, as it sees supply improving while demand growth will ease.
However, Fitch expects commodities to remain elevated compared with historical levels, amidst a still-supportive macroeconomic backdrop and low stocks.
Fitch projects its Aggregate Commodity Price Index to decrease by 7.9% y-o-y in 2022 in nominal terms, following the impressive 43.8% y-o-y growth expected in 2021.
Out of the 27 key commodities, Fitch sees 19 of them (or 70%) averaging lower on a year-on-year basis. Most notably, Fitch sees ferrous metals (iron ore, steel), natural gas NBP, thermal coal, and oil crops (palm oil and soybean) averaging sharply lower; while it expects Asia LNG, US Henry Hub, tin and lithium to average higher.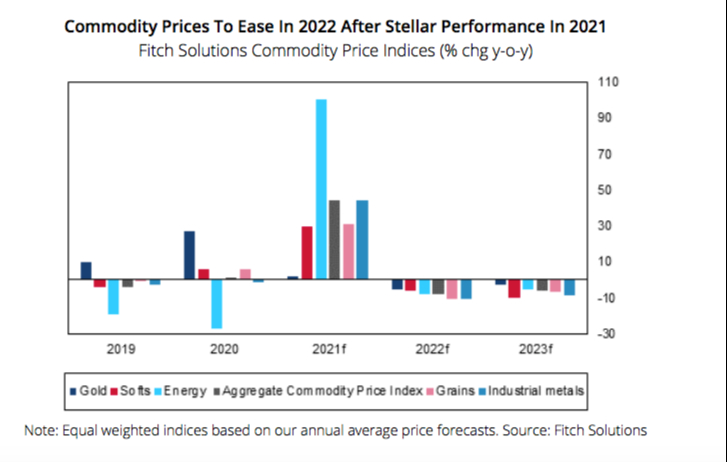 The macroeconomic backdrop will remain supportive for commodities demand next year, Fitch says, which will keep prices elevated as compared with 2017-2021 averages.
The analyst's Country Risk team forecasts that the global economy will grow by 4.1% in 2022, well above the 3.1% average recorded between 2015 and 2019. However, the pace of growth in global economic activity marks a slowdown from the 5.5% Fitch estimates for 2021, which will put some downward pressure on demand for commodities.
In particular, the Chinese economy is facing a number of downside risks, most importantly related to its real estate sector's financial difficulties.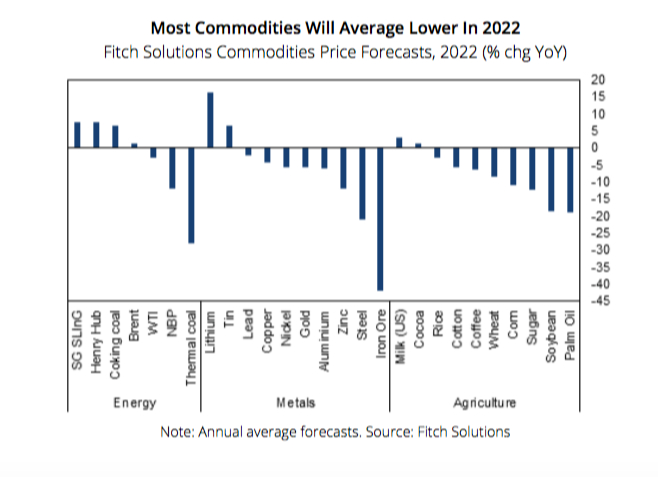 Fitch forecasts a slowdown in China, where it expects real GDP growth to ease from 7.8% in 2021 to 5.4% in 2022 due to less favourable base effects; Beijing's zero-covid strategy, which will continue to curb consumption growth; a regulatory crackdown across multiple sectors of the economy and ongoing stress in the property sector.
Meanwhile, Fitch's Country Risk team expects the monetary policy tightening, which has started in EMs in 2021 with increases in interest rates in many markets, to continue and spread to DMs throughout 2022.
Most DM central banks will start ending their quantitative easing (QE) programs in early 2022, and Fitch forecasts one 25 basis point interest rate hike in the US. A more hawkish US Fed will bolster the US dollar in the coming months, Fitch says, which is another headwind for commodities going into 2022.
(Read the full report here)
Source: https://www.mining.com/most-commodities-prices-to-average-lower-in-2022-report/